The Gone Flyin' website
WILBUR THE IRON MAN
March, 2000
---
The title of Iron Man is bestowed upon people who have, above all else, a single minded determination. Wilbur, at the time this story was written had been putting 250 hours per year on his little airplane. This does not seem like much, but I struggle to fly my plane fifty hours per year.
Two hundred and fifty hours per year is not too difficult in the warmer parts of the country, but Central New York, in the lee of the Great Lakes is not prime territory. When you do the math, it becomes apparent that Wilbur had been flying his plane on just about every "flyable" day of the year, all through the seasons!
Wilbur has slowed his pace now, but he is still in triple- digits. I took this picture of him in July of 2004, as he arrived after an hours' flight to Cooperstown, NY for breakfast. Like all the rest of us he had flown above low clouds until they had almost knit together, and then ducked down under them to fly the valleys for the last twenty miles of the trip.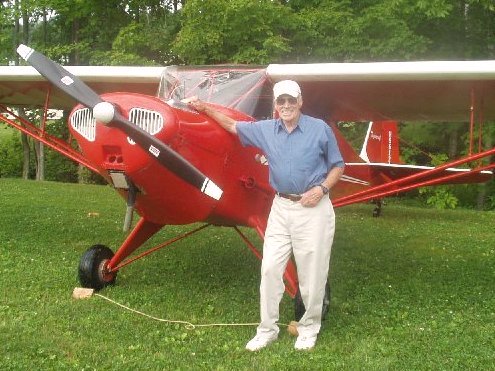 Wilbur and his Taylorcraft "Orange Crate", at Cooperstown in July of 2004.
---
use your back button to return to the Table of Contents
---
Table of Contents
Return to Website Home Page
E- mail Bob Tilden
Order your copy of Gone Flyin'